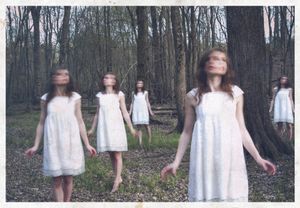 wedge is a (primarily) electronic musical enterprise consisting of Tommy Wedge and Mark Emge. Both men write, record, produce, and play a variety of electric and acoustic instruments on their songs. Tommy sings and lives in Athens, GA. Mark doesn't and lives in Long Beach, CA. 
wedge's first release was Tommy's 2007 solo album "Heavensville" (garnering RollingStone.com "Artist of the Week" honors), an atmospheric mix of dreamy pop, electronica, and ambient soundscapes. 
Mark joined for the writing and recording of 2011's "Almost Silent" LP, which saw the music expand in tonal palette, rhythmic complexity, and songwriting breadth. The "Thieves Thieves" EP followed, distilling the duo's musical vision even more purely. 
Now comes "Phantom Limb," a collection as hard, cutting and precise as a turntable stylus. The sound of a human heart breaking in two was carefully sampled, manipulated and rendered into 12 song-length shards of hope and despair. Many diameters of drum, a museum of vintage synthesizers, and a french horn are among the instruments deployed. 
"Phantom Limb" is the last album you will ever need to hear.